European Law Student Association Tilbury University
Guest lecture on Stress and Stress Response  12th November 2019
ELSA Tilburg is a local international, independent, non-political and non-profit association group of ELSA (The European Law Students' Association) in The Netherlands; run by and for law students and young lawyers, that are interested in academic and personal development on top of their studies. ELSA gives the opportunity to develop their existing skills, gain new skills and meet fellow law students and legal professionals all across Europe.
UPCOMING  EVENT: SmartStress Talking 
Mind Synergy Int. will partner up with several businesses in Amsterdam to encourage employees to talk about stress and wellbeing in the workplace. 
Eva Connections Amsterdam 
Mind Synergy Int. has partnered with Eva Connections Amsterdam  to provide a serious of webinars and workshop on stress and burnout.
Webinar: Stress and Stress Response 23rd April 2019

Workshop: Stress and Stress Awareness 6th June 2019

Workshop: The Stress-Illness Link  3rd September 2019

Workshop: Coping and Coping Strategies  30th  October 2019

Workshop: Personal Stress Relief Techniques 27th November 2019

Workshop: Burnout ; date to be decided.

Workshop: Mood, Emotions, Depression and Anxiety; date to be decided.

Workshop: Linking Stress to Sleep Problems; date to be decided.
Eva Connections is a networking community for women. They take a holistic approach to the question "What do women want?".  They have created 2 core pillars incorporating their core values, Eva Wellness and Eva Talent, these cover a range of different topics, learnings, events and more. 
WELLBEING @WORK EVENT AMSTERDAM
Mind Synergy Int. was honoured to be asked to host a round table on mediation. Our title was: What role does workplace stress play in workplace conflict.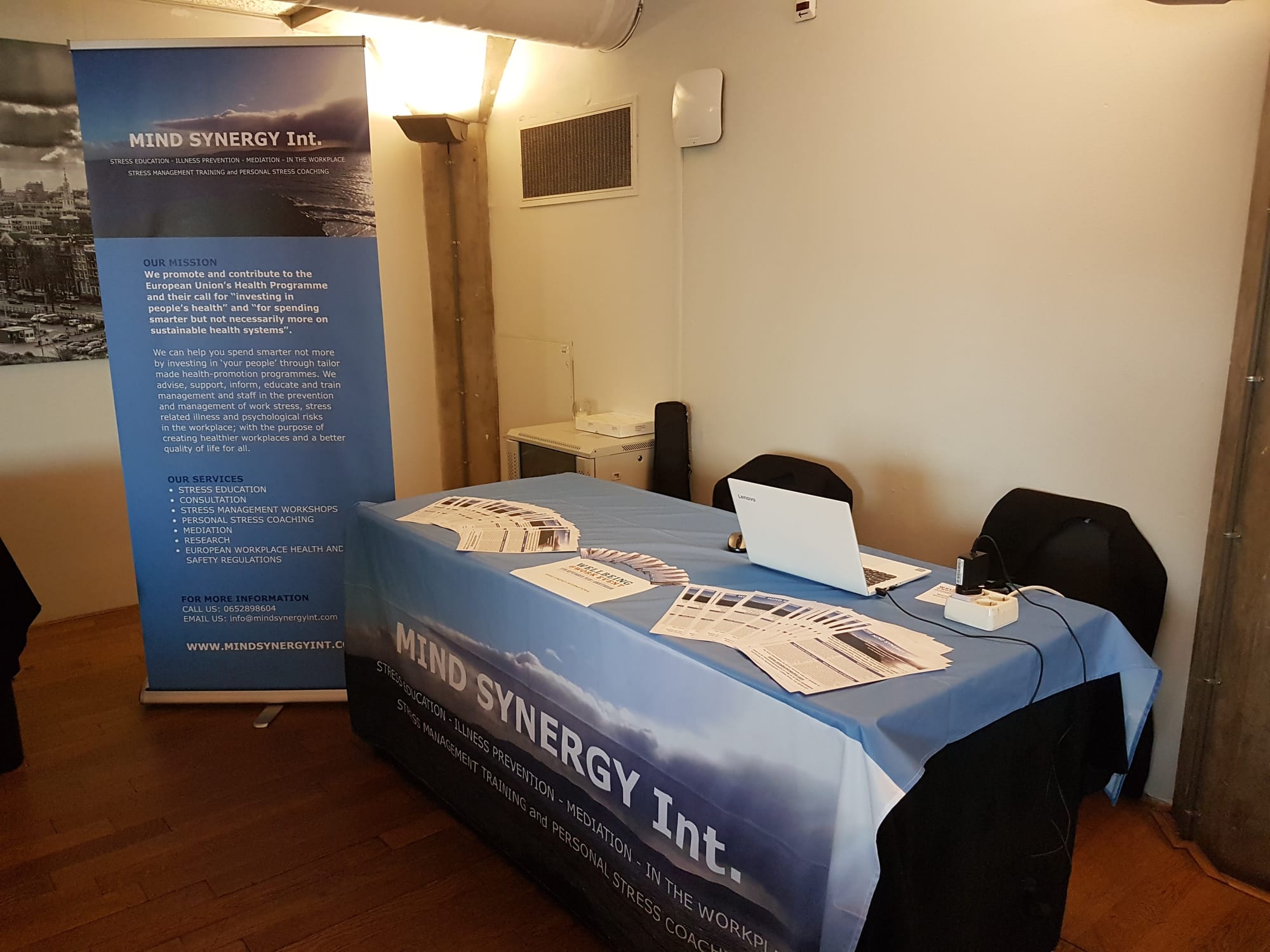 The round table was a flow of good discussion and ideas with insights into the biological, psychological and behaviour aspects of stress which lead to conflict. 
Feedback was very positive. This Wellbeing @ Work Event was a great success. Looking forward to the next year!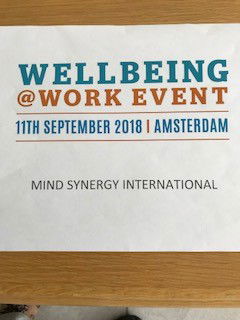 "A phenomenal programme with passionate, innovative  and successful industry leaders sharing experiences  about improving the ever-changing workplace".
The Wellbeing @ Work Events are one-day conferences that challenge and educate business leaders and HR professionals on how to improve corporate wellness whilst providing the tools to implement a successful and engaging programme within their organisations. Taking place in London, Dubai, Toronto, San Francisco, Hong Kong, Edinburgh, Sydney & Amsterdam, The Wellbeing at Work Event is an established and respected brand globally that attracts a senior-level audience.
The Wellbeing @ Work Event arrived in Amsterdam on Tuesday 11 September and took place at Pakhuis de Zwijger. The one day summit provided HR & Business leaders with the opportunity to learn from experts and peers about the latest wellness developments and successes that are enhancing individual and organisational performance in companies across Europe. 
The Wellbeing at Work Event provided a forum for businesses to hear, meet and discuss wellbeing initiatives with leading experts and practitioners to equip organisations with the tools to introduce or improve wellbeing programmes in the workplace. Corporate wellness is helping organisations to attract and retain talent, reduce absenteeism and create highly productive workplaces.