Corporate Stress Educator
Stress education in the workplace strengthens the roots of your company
Stress education in the workplace focuses on coping and coping strategies. In a nutshell the stress educator combines a set of skills and models used to educate, guide and support employees to become more aware of their stressors and to enable them to cope better and be more resilient; bouncing back from adverse conditions. Resilience refers to the ability and speed at which an individual recovers from stressful events. Resilience contributes to positive health and is strongly linked to control (Cassidy 2003); control is strongly liked to coping. Learning to cope with the stress of work and life in general will also increase self efficacy; the perception that one can deal confidently with the task at hand. The stress educator guides, educates, informs, listens, motivates and supports.
FACTS: Arboned November 2017 
An employee who drops out of the workplace due to stress related illness and burnout can be absent for 157 to 186 days.

One day of absence will quickly cost €250

157 days (8 months) x €250 will cost € 39,250 per employee.                                             
186 days (9 months) x €250 due to burnout will cost €46,500 per employee. 

These figures have only increased sinds 2018
                                                   Our stress educators cost €85 per hour 
A stress education session generally lasts 1 hour. In cases of excessive stress related illness and burnout, stress education will help employees understand what they are actually going through; their brain-body connection and help them stay longer in work or return to work quicker when they feel safe and supported.  We use only evidence based techniques . We are educated to MSc in Health Psychology level and are registered with the professional body NIP. 
Comparing the cost of stress coaching to the costs of long term illness
Here is a rough estimate of the cost of stress education for one employee with stress related illness or burnout.
Based on 3 sessions a week for 4 weeks in a month over 8 months; one of our stress educators costs you 8,160.00 per employee.
€85 x 3 sessions a week = €255 x 4 weeks in a month= €1,020 x 8 months = €8,160 for 8 months.
Sickness absence in the Netherlands costs employers around €11 BILLION on sickness payments per year.
Sickness payment for 157 days (8 months) of absence due to work related stress or burnout @ 250 a day will cost €39,250 for one employee. www.arboned.nl
Sickness payment for 186 days (9 months) of absence due to work related stress or burnout @ 250 a day will cost €46,500 for one employee. www.arboned.nl
€39,250 – €8,160 = €31,090 SAVE €31,090
€46,500 – €9,180 = €37,320 SAVE €37,320
Work with a stress educator to keep your employees in work, prevent stress related illness and save money on illness costs.
The number of sickness absence days for stress-related illness and burnout have only increased in 2018-2019, thus stress related illness costs have also increased. www.arboned.nl 
                       

Stress coaching in the workplace is producing excellent results in Denmark
Robust and resilient workforce
Jan Gerding HR Director Nordics Robert Bosch A/S Denmark
At the Wellbeing @Work Amsterdam event on the 11th of September 2018 Jan surprised a group of curious and desperate delegates on how he and his company; Robert Bosch A/S Denmark approached the high prevalence of stress related illness and burnout in the company. Highly educated and skilled employees were burned out; the burnout rate was too high for comfort and to top it all after a long recovery from burnout employees returned to work for an average period of one month before handing in their notice and going to work for other companies, who they were convinced would look after their health better. Something had to be done; HR needed to find out why so many employees were being burned out and why so many left the company after their recovery. A wellbeing policy needed to be developed. After some deep soul searching Jan based his potential wellbeing policy to improve the health of all employees and retain his best people, on the following questions: 
Why did our employees go down with stress?                                                                   

What could we do to prevent them from going down?

How could we ensure that they returned and stayed in the job?

What would a wellbeing policy entail and what would it cost?
The tree is only as strong as its roots: Jan Gerding Robert Bosch A/S Denmark 2018
Based on the theory that the company is only as strong as a the employees holding it up… like the roots of a tree holding the tree steady and in position… flexible enough to blow in the wind, take the stress and strain from all the external elements and be robust and resilient enough to bounce back; Jan and colleagues started to develop their wellbeing policy in the hope that stress related illness and burnout statistics would decrease and employee retention would improve.
A wellbeing policy demands cooperation from all departments
The following areas were investigated:
How to focus on wellbeing in the workplace; attention to colleagues' wellbeing.

Who decides help is needed? HR decides.

Who pays for the help? Department pays.

How to introduce/incorporate a wellbeing policy? Pro-activity.

How to execute a wellbeing policy? Stress coaching on the job.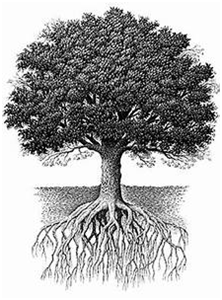 Based on these areas Robert Bosch A/S Denmark set up their 'On The Job Stress Coaching Programme', on which all employees could rely on. With the cooperation of HR, all employees had access to stress coaching. To make sure the costs were responsibly shared, the managers of each department paid for the necessary stress coaching of their teams; the costs of coaching their team came out of their department's budget. This had the effect of killing two birds with one stone. The employee got the help he/she needed and the manager, whether he/she liked it or not would eventually have to ask why the team were under so much stress; which in turn would force managers to examine management styles and maybe even request additional management training. One wellbeing being initiative led to another.
A big part of the wellbeing policy was getting all employees to take part in the 'On The Job Stress Coaching Programme', not only to start looking after themselves in the workplace but also each other. Slowly but surely a support network was set up for all colleagues; especially those showing signs of stress.
The stress coach was available on the work floor when necessary; one stress coach who eventually was accepted as being someone who belonged on the work floor. There were no recriminations about being or feeling stressed, the focus was on keeping all employees healthy with the knowledge that in reality we are all prone to stress. It was and still is today accepted that feeling stressed is a normal part of life and a normal part of the working day.
What else did the wellbeing policy include?
Additional initiatives introduced to increase coping:
Physical health checks

Psychotherapist

Mindfulness

Sleep training

Dietary advice

Different after work meetings (stress, mental robustness, info meeting concerning cancer, etc.) 
What were the results of all the hard work? 
Significant reduction in absence due to stress –75% first year

Stress coach was paid by the company –and still was more financially favourable.

'No' burnouts (1 since 2006).

100% leaving after 12 months before the stress coaching on the job initiative –less than 5% leaving after 12 months after the stress coaching on the job initiative.
What was learned?
Stress is a shared responsibility and not a management responsibility…and… Without trust –forget it!!!              
Employee absenteeism: Research ArboNed November 2017
www.arboned.nl
Work stress is occupational disease number 1.

23% of long time illness, between 42 and 730 days, in the Netherlands is caused by stress.

One in eight workers suffer from stress.

Almost one quarter of the total absenteeism is due to stress.

A sick employee with work related stress will be an average of 157 days (8 months) absent. During these 157 days the work will have to be done by 1) a colleague who already has a week's work to do, or 2) a temporary worker who will be paid and who will have to be trained in. A burnout will take an employee out of the workplace for 186 days (9 months); causing even more organisational, human and financial consequences. The extra work put on the team due to the absence of a sick colleague creates more stress. The extra financial cost of recruiting temporary colleagues puts extra financial strain on the company.

More than a million people run the risk of a burnout or other stress related illnesses, yearly.

30% of the Dutch population have problems with sleep. Stress can cause sleep problems and sleep problems causes vulnerability to stress. This is a vicious circle.

The sick leave of employees with a permanent contract is almost twice as high as that of employees with a temporary contract.

With an absenteeism rate of 4.0%, the Netherlands is above average of the EU countries (3.0%). The percentage of employees with at least one sick day in the previous 12 months is above average in the Netherlands with 53% compared to 48% for Europe.

Much absenteeism of employees is related to demanding workloads.

In 2015, 24% of employees said their absenteeism was mainly due to work related stress. Because a work-related absenteeism lasts longer than non work related absenteeism; these cases add up to 42% of sick leave days. 
 TNO Monitor work and illness figures 2016 cost of illness and absenteeism.  www.monitorarbeid.tno.nl
Costs of continued payment of work-related absence (4.7 billion euro), work-related costs of incapacity benefits (1.9 billion) and costs of (medical) care for people with a work-related condition (1.4 billion Euros). Together, these costs amount to 8 billion Euros and represent over 20% of all costs of absenteeism, incapacity for work and care for workers. In addition, work-related health problems also create other costs that have not been included in the aforementioned estimate. Employers may have to deal with costs as a result of presenteeism (being ill in work and not contribution), costs for replacing staff and absenteeism. Employees can be confronted with the costs of medical treatments that are not reimbursed or a loss of salary after one or two years of absence. The estimated amounts are therefore an underestimation of the actual costs.
The figures for work-related stress and stress-related illnesses and burnout have only increased over 2018. Figures from TNO and ArboNed show a rise in sick leave days and sick employees over 2018. 
The figures for work-related stress and stress-related illnesses and burnout have only increased over 2018. Figures from TNO and ArboNed show a rise in sick leave days and sick employees over 2018. 
Our hourly rate for stress education is €85 per hour. Give us a call, we would be delighted to discuss how we can help and support you.